Listening to Audiobooks Is Reading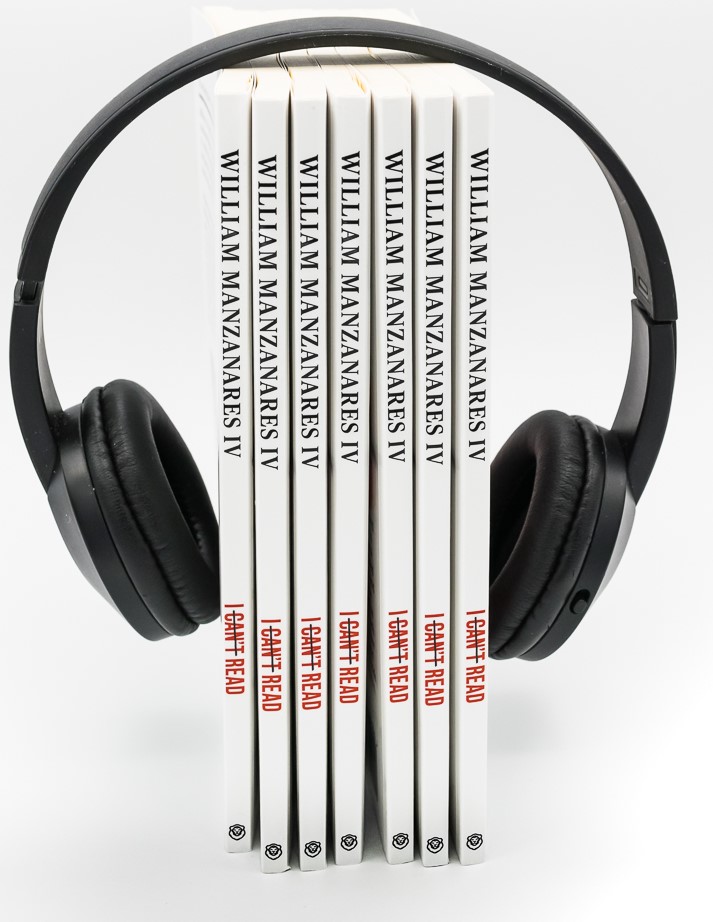 William Manzanares is the author of I Can't Read.
Audiobooks have been on the rise for years now, and they're only gaining more popularity. Many people enjoy having the option to listen to their books, but for some of us, audiobooks mean so much more. They've transformed my life and the lives of millions of other people who have dyslexia and struggle to read printed text.
When I discovered the wonder that is Audible, I began listening to books like a madman. I found out there was an option to listen to the books at a higher speed and began consuming them at an even greater rate. After a lifetime of feeling like books were beyond my reach, I now had access to a whole new world of literature and information. Shockingly, in hindsight, I came close to never opening this door for myself.
I Almost Missed Out
I almost never signed up for Audible. I am admittedly cheap, and the service seemed expensive to me. The first two books I listened to were free, but I wasn't willing to spend the $14.95 a month to continue. I doubted I could read even one book per month. Then I considered I was paying just as much for Netflix, and that I couldn't justify that over something that would actually help me with my reading challenges. I signed up for a month, which quickly turned into a year, which led to my current obsession with Audible today.
My point is: don't make my initial mistake. If you're spending money on something that does nothing to help your reading challenges, rethink that priority. Give yourself a chance at a month and see if you don't end up with the same obsession. The wrong priorities might be holding you back from greatness.
Listening Is Reading
Maybe you've held off on trying audiobooks because someone told you that listening is "cheating" or that it isn't really reading. If anyone tells you that listening to an audiobook isn't reading, they're downright wrong.
At a certain age, our reasons for reading change. When we're young children, we read books to learn how to sound out words and process language. Beyond that point, we read for information. We read to access the content of the book, and audiobooks perform that function just as thoroughly as written books. If someone listens to a book, they'll be able to answer the same questions about the content as someone who read a printed version. Listening is reading because the end result—acquiring the information contained within the book—is the same. Whether you read with your eyes or your ears, they are both equal and valid.
Listening to audiobooks allowed me to learn from others' perspectives and take on an entirely new outlook on life. Discovering my love for reading led to my decision to write my own book, I Can't Read, and to speak out about my reading struggles.
If you have dyslexia or other reading difficulties, you have access to more technology and resources—like audiobooks—today than ever before. I encourage you to take advantage of those resources, to find out whether you have a love for reading, and to never feel less than print readers because you listen to your books.
To learn more about audiobooks and other resources for struggling readers, check out I Can't Read. If you're more of an audiobook lover, you can find that version of the book at rebrand.ly/icantread. The ebook is available on Amazon.
William Manzanares IV was born and raised in the Tacoma area of Washington State and is an active member of the Puyallup Tribe. He is a serial entrepreneur, having owned and operated successful smoke shops, convenience stores, and restaurants since 2005. William is passionate about helping small business owners as well as struggling readers. To that end, he spends much of his time speaking with students about career planning and goal setting. Having grown up unable to read and struggling with dyslexia, William hopes his new book will equip kids to improve their literacy and inspire them to pursue their dreams.