Balancing Comfort and Risk Taking in Entrepreneurship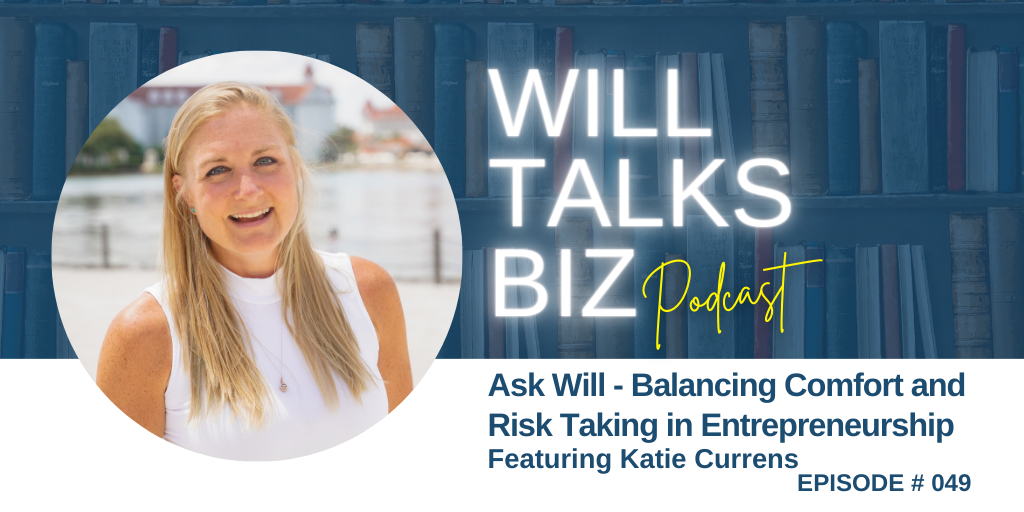 "With any goal you have to put it out in the world to those who will help you and keep you accountable."
For this episode of Will Talks Biz, Cassie and I welcome back previous guest, Katie Currens. She is offering updates on how their business has evolved since she joined for an episode of "Ask Will", while also coming with a new batch of curiosities. This is a conversation that gives people an awareness of the comforts and risks that come with entrepreneurship, while also staying true to their goals and aspirations.
Katie is a former classroom teacher that moved into consulting and business development before taking the leap into entrepreneurship. She is now dedicated to helping others uncover their purpose in life through the magic of unlearning. Her business, One Spark Solutions, offers creative design and development for organizations looking to better align their people with their purpose. Throughout our conversation it is clear that she has a passion for education and a knack for guiding people towards self-discovery, while still open to seeking guidance on her own personal and professional growth.
The questions she asks today are moments that every entrepreneur has faced. There will come a time when you face the difficulty in choosing between a traditional job and doubling down on your business, especially as a substantial contract comes to an end. Going back to a traditional job after being an entrepreneur was not a favorable experience for me. This is one of those times you have to weigh what it means to you, which could include the decision to take a part-time job or double down on the business. Know the importance of balancing comfort and risk-taking in entrepreneurship.
Learning the value of your offer and charging for your expertise is a huge issue that many of of face. Remember that people pay for what they value. so don't forget the importance of valuing yourself and charging what you're worth, while also recognizing that not everyone will pay for it. Stay focused on delivering quality services to your clients.
In this episode, you will learn:
balancing act of blending cautiousness with courage in your entrepreneurial pursuits
offering wisdom without resorting to clichéd tactics to gain attention
Discover the ideal network that will uplift you emotionally throughout your business journey.
valuing the art of openness and genuineness in your entrepreneurial endeavors
Set aligned goals that drive you towards growth in both personal and work life
Throughout our conversation Katie and I discuss why it is important to set boundaries between personal and professional life. Part of why I started this podcast was because I learned there are common struggles we face, much like the questions Katie asks. After all, the best way to help is by offering the opportunity to learn from each other's mistakes.
Connect with Katie:
LinkedIn Katie Currens
One Spark Stories Podcast
Spark Purpose Journal Buy the Journal
Connect with Will:
Book I Can't Read: A Guide to Success Through Failure
Email: Will@willtalksbiz.com
LinkedIn: https://www.linkedin.com/william-manzanares
Episode Highlights
00:02:53 – Katie's Current Struggles
00:07:15 – Should You Get a Part-Time Job?
00:11:51 – Giving Free Consulting Advice
00:14:11 – The Fear of Freebies
00:16:27 – The Importance of the Right Approach for You
00:18:23 – Why Feedback is Critical to Growth
00:20:02 – The Purpose of the Podcast
00:23:30 – Setting Goals