Scaling Safely and Successfully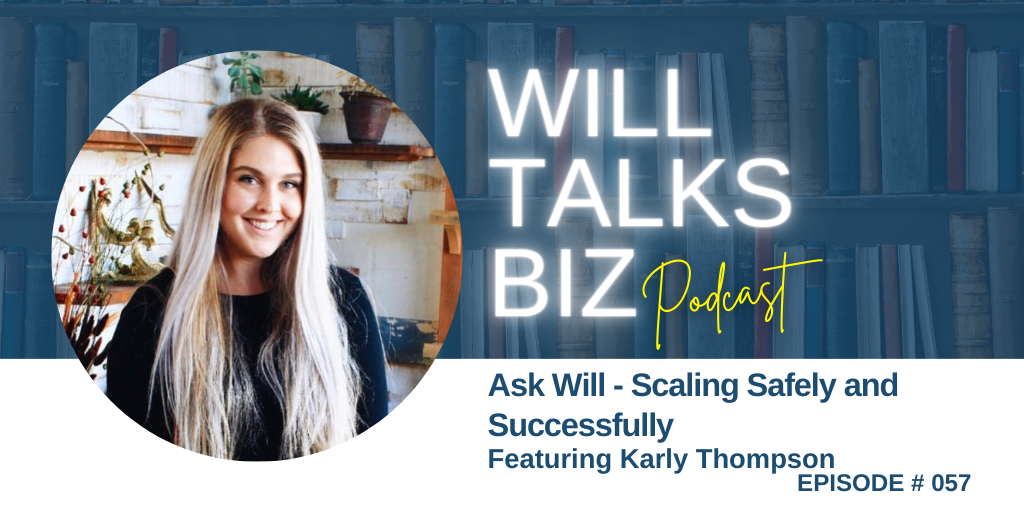 Karly Thompson, co-founder of Millennial Social Media Marketing, has a focus on social media marketing and content creation. She joins this episode of "Ask Will" to ask questions about her business challenges around scaling safely and successfully. These conversations offer so much value with raw advice and experiences from fellow entrepreneurs. In Karly's case, she wants to expand her business and increase profits, but also wants to avoid the risk of losing her current loyal clients. Time management is another challenge she faces in finding the right balance.
When Karly Thompson embarked on her much-anticipated entrepreneurship journey, she knew she was stepping into an exciting yet challenging venture. As a new mom, she had her hands full, but her determination was unyielding. She co-founded a social media agency in Tampa that quickly started to bloom. While she relished the success, Karly found herself caught in a whirlwind of dilemmas. One of the biggest being around scaling her business.
Many entrepreneurs experience the challenges that come with balancing the sustainability of a loyal client base while trying to expand. Karly was determined to grow, but not at the cost of her thriving client base. She was terrified of losing them amidst her pursuit of expansion. However, Karly took the challenges head-on. She dared to venture beyond her comfort zone, embarked on strategy calls, masterminds, and was on the path to launch her first eBook.
In this episode, you will be able to:
Discover the ins and outs of overcoming obstacles as you expand your social media agency
Learn the art of balancing rapid growth with client relationship management
Uncover why it's vital to maintain authenticity while demonstrating business growth on social media
Explore the process of transitioning into a public speaker role from a unique perspective
Gain valuable insights on breaking into the speaking market and attracting discerning clients
Karly's story reminds us that the journey of entrepreneurship is indeed a roller-coaster ride. It is a testament to her courage, resilience, and the relentless pursuit of growth, even in the face of adversity.
Connect with Karly
https://www.linkedin.com/in/karly-thompson-/
Connect with Will:
Book I Can't Read: A Guide to Success Through Failure
Email: Will@willtalksbiz.com
LinkedIn: https://www.linkedin.com/william-manzanares
Episode Highlights
00:03:25 – Introducing Carly Thompson and her Business Journey
00:04:41 – Carly's Struggle with Scaling
00:06:00 – Carly's Fear of Losing Clients
00:07:46 – Services Provided by Millennial Social Media Marketing
00:12:58 – The Challenges of Building a Business
00:13:55 – Perception vs Reality
00:15:27 – 1099 vs W-2 Employees
00:17:07 – The Power of Autonomy,
00:20:09 – Overcoming Fear and Pursuing Speaking Opportunities
00:24:33 – The Importance of Providing Value
00:24:57 – Overcoming Cynicism in a World of Information
00:25:16 – Speaking from the Heart