Shifting From Entrepreneurship to the Corporate World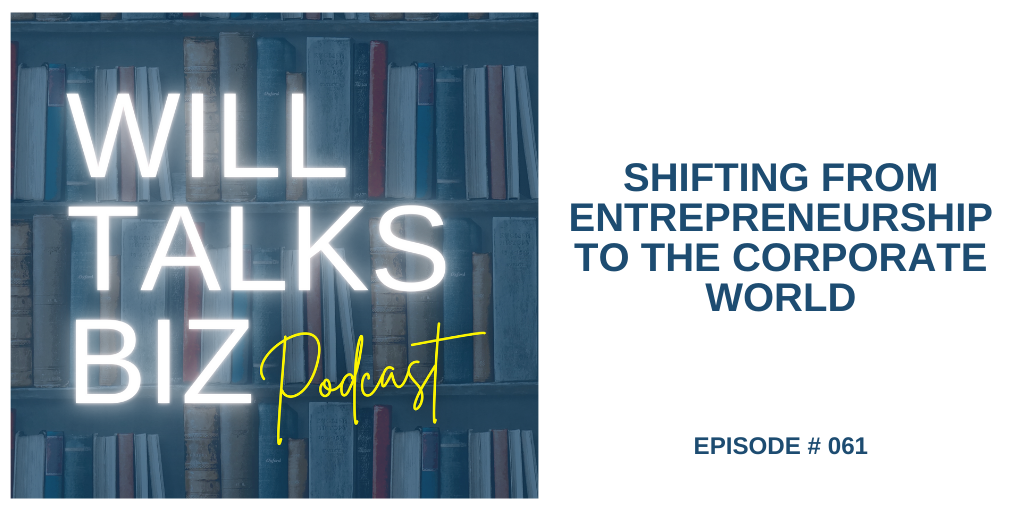 "Don't be stuck in the 'only if' mindset. Get out of your head and start solving your customers, clients, or guests' problems, and you will be successful." – Will Manzaneras
There are many people that wonder if their entrepreneurship experience is beneficial for corporations. Recently Cassie decided to apply for a job in a local company after being out of the corporate world for almost four years. She notice a lack of callbacks and interviews despite years of growth. This raises the question of whether entrepreneurship experience is valued in corporate settings.
Years ago I leveraged my entrepreneurial skills to secure a job. After a while I came to realize that my outside-the-box thinking and willingness to challenge the status quo were not appreciated in the corporate environment. There became a clear clash between the entrepreneurial mindset and the expectations of a traditional corporate structure.
Entrepreneurs need to carefully consider their reasons for wanting to return to the corporate world. Paying off debts or leveraging a job to support the financial stability of their business might be valid reasons. However, be cautious against going back out of fear or a desire to please others.
On the flip side, entrepreneurship requires a certain mindset and drive. If you are not able to see past the challenges that rise as an entrepreneur, then it may not be the right path. Take the time to refine traits before reentering the entrepreneurship space.
If you decide that you are interested in a corporate role for the right reasons then make sure you are tailoring a resume to the job being applied for. Focus on skill sets, not necessarily mentioning ownership of a previous business unless specifically asked.
While you may have done some pretty amazing things, make sure you don't end up bragging during an interview. Instead, focus on what has been accomplished and how it benefited the company. Make sure you showcase your ability to adapt and not stuck in the past.
If you've been considering re-entering corporate positions, that the time to reflect on your initial reasons for starting a business. Ask what has happened to cause motivation to wane. Entrepreneurs need to embrace change and learn from others' mistakes.
Connect with Will:
Book I Can't Read: A Guide to Success Through Failure
Email: Will@willtalksbiz.com
Episode Highlights
00:02:07 – Cassie's Recent Job Application Experience
00:03:18 – Challenges of Being an Entrepreneur in a Corporate Environment
00:06:01 – Considerations Before Returning to the Corporate World
00:09:38 – Entrepreneurship is Not for Everyone
00:12:27 – Challenges of Entrepreneurship
00:13:17 – Presenting Yourself During an Interview
00:14:55 – Bragging vs. Humility
00:15:56 – Revisiting the Why