Ask Will Building Your Speaking Expertise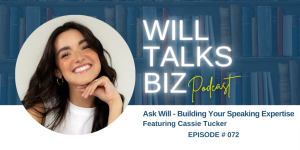 "Passion will trump any mistakes they may see you make."
Anyone interested in public speaking needs to understand effective speaking strategies, including engaging the audience throughout the presentation. During this conversation, Cassie discusses her upcoming presentation and seeks guidance on boosting her confidence, honing her presentation skills, and engaging an audience.
The best way to battle nerves before getting on stage is to practice, practice, practice! The more you rehearse your speech, the more confident and fearless you'll become. Practice makes permanent, not perfect. Recording, reviewing, and refining your speeches is essential to eliminate filler words and enhance your storytelling skills.
A key to keeping your audience engaged is by embracing the power of storytelling. You can also actively engage the audience through thought-provoking questions and feedback requests. Ask questions, share relatable stories, and leave them wanting more. Remember, passion trumps any imperfections!
Once you wrap up your time on stage it's important to shift to post-presentation networking. Leave your contact information and encourage further connections. Aim to strike a balance between leaving them wanting more and overstaying your welcome. Leaving a positive impact can easily be done through effective follow-up.
Make sure to listen to this episode for more details around combatting nervousness, addressing filler words, ensuring engaging content, and effective follow-up strategies for speaking engagements.
Connect with Cassie
LinkedIn: www.linkedin.com/in/cassaundrapalmer/
Connect with Will:
Book I Can't Read: A Guide to Success Through Failure
Email: Will@willtalksbiz.com
LinkedIn: https://www.linkedin.com/william-manzanares
Episode Highlights
[00:02:45] Presentation style involves sharing, engaging, and workshopping.
[00:04:19] Adapting speeches to audience, using teleprompter and practice.
[00:09:21] Avoid using "that" when speaking publicly. Use notes or cards for guidance.
[00:10:06] How to keep presentations engaging for audiences.
[00:14:27] New topic presentation, excited to share expertise.
[00:17:58] Imitate and learn from admired speakers, performers.