Introduction to Will Talks Biz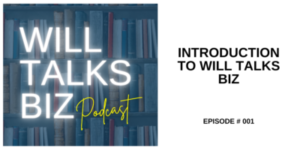 Welcome to the introduction episode to Will Talks Biz with Will Manzanares. Failure is a common denominator
There are many moments that we count as failures that are so big we never forget them.
Change happens with what you decide to do next.  Do you give up or do you persevere?
Will kept his dyslexia a secret for over 30 years
"I Can't Read: A Guide to Success Through Failure" is Will's book about his experience having dyslexia
His book talks about navigating life as a student and business owner
What is the day that defines your career?
For Will it was the day his ex business partner walked out and left him with nothing
The biggest challenges many people with dyslexia face are what have taught Will strategies that he has been able to leverage while building his business
statistics show that 32 million people in the United States of America cannot read, Will has set out to bring awareness to learning disabilities in entrepreneurship and the importance of literacy.
Don't let setbacks define you. Perseverance is more than just a word. It's action.
Connect with Will:
Book I Can't Read: A Guide to Success Through Failure
Email: Will@willtalksbiz.com