Ask Will – Delegating in Business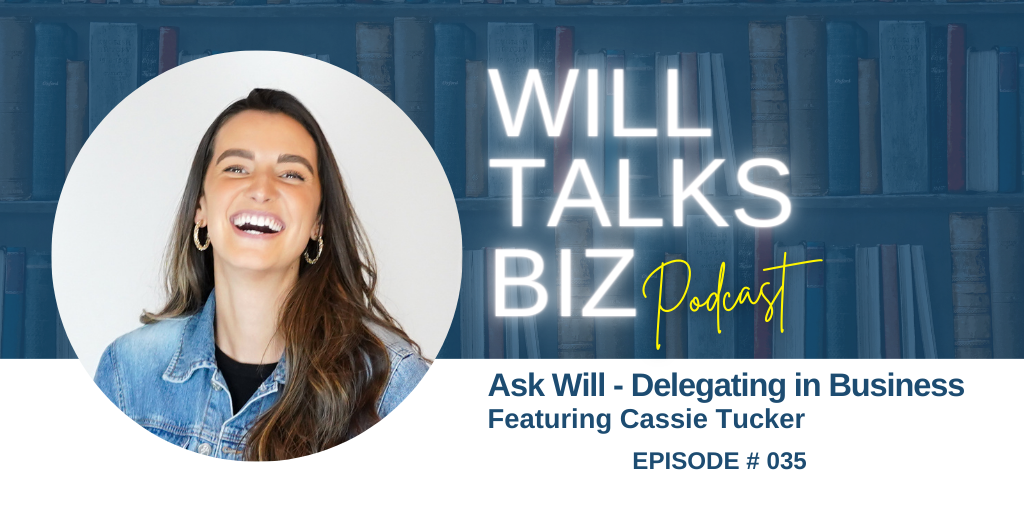 "When you start to spend money on the areas that could save you time, that could allow you to focus on the things that you should be doing."
It is not uncommon for entrepreneurs to struggle to find the balance between managing their own business and subcontracting work. During this episode, Cassie and I talk about delegating in business. It can be overwhelming deciding whether to cast a broad net for clients or specialize in one area. That can sometimes bring the risk of losing your own clients to competition.
As Cassie's business that continues to grow, she has had to find ways to address common challenges. She is a business owner who specializes in content strategy and social media. Every time we talk it is clear that she is passionate about helping entrepreneurs craft a plan to reach their goals and find success in their business.
The last time she was on the show she was struggling to find balance and success while juggling content creation bookkeeping. She sought advice and was guided to look for a specialist to take over the content creation for her clients, while still keeping her brand and revenue intact. Through trial and error, Cassie was able to build a more successful business that found balance. This time we talk more about delegating in business.
In this episode, you will learn:
1. how to craft a business model that allows for creative control and revenue generation.
2. what methods can be employed to ensure customer loyalty.
3. how businesses can use the scientific method to identify and solve problems.
"Remember from a business perspective, you don't know their balance sheet, you don't know their profit loss. They could be spending a lot to make themselves look like they have a nice business, but in the end, the tried and true businesses are the ones that can weather any storm, any pandemic, any type of uncertainty, and still be there to serve their customers, clients or guests."
Episode Highlights:
[00:03:21]
I love the clients that I am doing social content for, but I ultimately want to kind of move away from that fully and just focus on the work that I am passionate about and feel like I have the most authority.
[00:11:13]
Be transparent that someone else is taking over, but be still part of the billing to make it convenient, and then you still have some creative control.
[00:13:56]
How much of a percentage do you ask for on top of that fee that the outside agency is asking to complete the work that you're having them do? You would take the I'd first ask them the quote, what they would charge. If not, then say, okay, well, you do it for also do the billing and processing for, I don't know, ten or 15%.
[00:16:39]
When you start to spend money on the areas that could save you time, that could allow you to focus on the things that you should be doing. I think that is ultimately going to make you money in the long run.
[00:19:02]
Identify the problem, come up with a hypothesis, and test it. That scientific method really works in business. Getting more comfortable with testing and taking more risks has been beneficial for my business.
Connect with Will:
Book I Can't Read: A Guide to Success Through Failure
Email: Will@willtalksbiz.com
LinkedIn: https://www.linkedin.com/william-manzanares